How to Take Care of Your Dog During the Winter!
We're already on the 1st day of December, and this blog will talk about how to take care of your dog during the winter and what different tips you can take into account when caring for your dog. We actually have five different top tips that you guys should definitely be doing throughout the winter months.
1. Temperature
So, the first winter care tip to take into account is the temperature. Obviously, most dogs and a lot of other dogs do have a thick layer of fur to keep them warm during the winter months. However, you've got to make sure that if your dog doesn't have a thick layer of fur, they do have a coat on them to make sure they are kept nice and toasty and warm.
Obviously, sometimes people use coats as a fashion statement, etc., but a lot of the time it might just be because their dogs are really, really cold. I know that some dogs, such as chihuahuas, can get freezing cold; you can see them shaking a little bit, so they definitely do need a coat if it is super, super cold, and you also have to remember that your dog's coat doesn't cover their ears, and I'm sure they don't want to be walking around with a massive hat on their heads, so you've got to make sure that your dog isn't kept outside for long periods of time.
2. Bedding
Make sure your dog has some cozy bedding. If you live somewhere really cold and have tiled floors, your floors may get extremely cold, and obviously, you don't want your dog sleeping on such cold floors, so it may be necessary to get them some cozy bedding to sleep on.
3. Moisturize
What I didn't realize is that cold weather can cause flaky dry skin on your dog, which can sometimes be quite painful for your dog, so it's important to help them stay moisturized. Obviously, if you've ever had dry skin yourself, sometimes it can be a bit itchy, sometimes it can be very sore, so obviously the same is true for your dog.
4. Keep an eye on those paws
Now, number four is all about your dog's paws, and if your dog has quite large paws and they have fur that comes through between their pads, this can actually mean that ice can get stuck on that fur and it can actually be extremely painful for your dog, so it's important that you keep the fur in between your dog's pads nice and trimmed and cut to ensure that no ice can get stuck in there, and you've also got to remember that salt might be spread on the sidewalks.
5. Keep the snow in your garden at a level
Now, number five is quite an interesting one, and that is to make sure that the snow in your back garden if you do get snow in your back garden, is nice and level. What I mean by this is that if you have a lot of snow in your country and it builds up and builds up if your dog can almost get over your fence and you already have quite a big dog, then if there is this buildup, your fence is effectively just getting shorter and shorter, which means that it can easily jump over the fence, so keep big bits around your fence and around your gates nice and small, and basically just keep it all at one level so your dog can't jump over anywhere or escape in any way.
Recommended Dog Coat
1. Dog Sweatshirt Hooded Pet Spring/Fall/Winter Clothes Warm Coat Red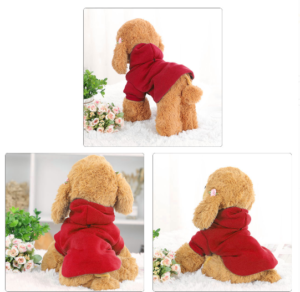 This Puppies Gear dog hooded sweatshirt is made from soft 65% cotton and 35% polyester for comfort. The durable hooded sweatshirt won't break when they are playing indoors or outdoors.
2. Pet Dog Puppy Classic Sweater Fleece Sweater Clothes Warm Sweater Winter
A Puppies Gear sweater that has thick and long sleeves that gave your beloved puppy a body warm just like your hug!
3. Puppies Gear I love papa and mama winter Pet Dog Jackets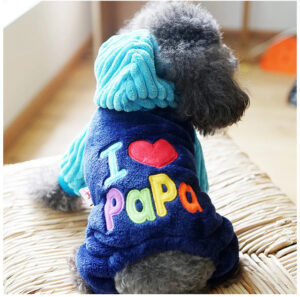 Winter is coming and it means the Christmas season. Our dog is sometimes good in the heat but sometimes they also got a problem in the cold season.
Recommended Dog Bed
1. Puppies Gear Dog Calming Donut Bed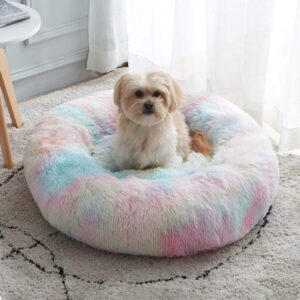 ✅ Material: Anti-slip, Waterproof design at the bottom
✅ Material: 100% Cotton
✅ Wash Style: Machine Washable
✅ Colors: 13 Types
✅ Pattern: Solid
✅ Weight: 380-1900g
✅ Material: Cloth and Fiber
✅ Type: For Pets
✅ Wash Style: Hand / Mechanical Wash
✅ Feature: Breathable
✅ Season: All season
✅ Suit For: Small/Middle/Large/Huge Pets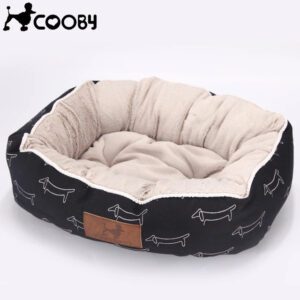 ✅ Brand Name: Juvenile Shoulder
✅ Wash Style: Hand Wash
✅ Feature: Breathable
✅ Model Number:py0103
✅ Item Type: Beds & Sofas
✅ Material: Cloth, PP Cotton
✅ Weight:600-1200g
✅ Size: S, M, L
✅ Color: Black
✅ Suitable: Dogs, Cats
✅ Style: Soft, Durable
✅ Feature: round Dog Bed Pad House