Omg! am I very pleased with this dog bed. My dog loves it a lot and so dogs her cousin. They have been playing in it already. Soft long plush fabric is so nice. A must buy if you're looking for a dog bed. Big enough for my dog. 
⭐⭐⭐⭐⭐ – Jenny Smith
✅Verified Buyer 
This dog bed is awesome. It is the most fluffy, plush dog bed I've ever seen. It is also the softest material I've ever felt. It is worth every penny. My dog loves it. It is a beautiful color. I purchased Dark Gray. It comes shrink wrapped to be easier for shipment. When you remove it, it expands. The directions suggest to wash it first, which I did on gentle cycle, warm.
⭐⭐⭐⭐⭐ – George Lubag
✅Verified Buyer 
It is true that there's nothing more relaxing than a good night's sleep not just for people but also for dogs. They need a comfortable bed to sleep well for 12 to 18 hours a day, depending on age. Completing sleeping hours can help your dog's body be healthy.
Dog bed can be used for napping during the day and sleeping at night. This will help to relieve stress and anxiety. Also prevents calluses, supports arthritic joints and it will keep your dog warm. Dogs could benefit from having a place where they can feel distressed and calm during the day or night.
REASONS WHY Puppies Gear Dog Calming Donut Bed CAN CHANGE YOUR DOG'S LIFE.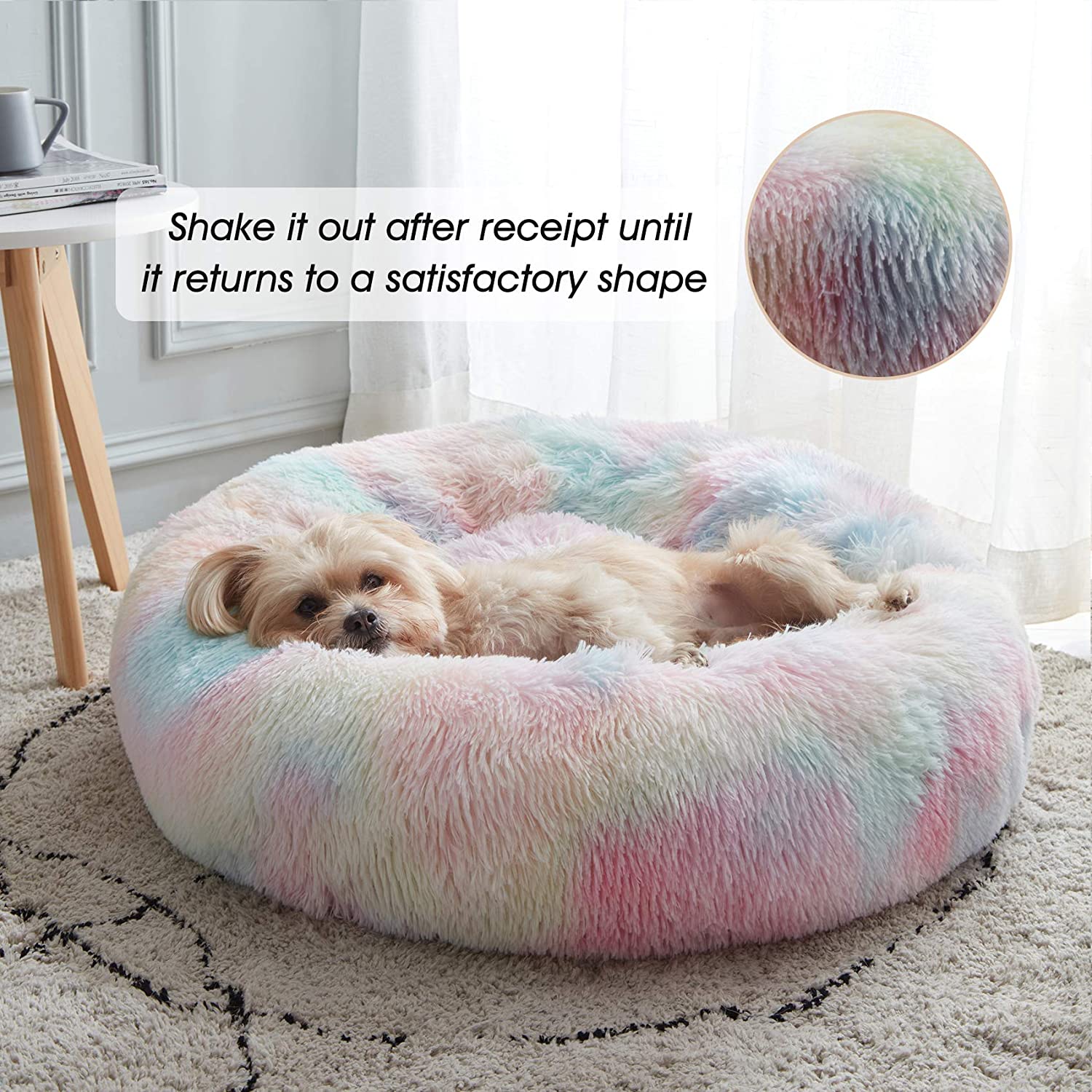 ✅ Prevents Anxiety
In a stressful situation, it's important to make your dog calm. Bed dog can help to prevent anxiety by providing your dog with a sense of security.
✅ Supports your Dog's Joint
Lack of sleep will result in bad behavior. Such as whining and howling. Dog beds will provide better sleep to improve the dog's memory and stay healthy.
✅ Provides Space
Dog beds will ensure that your pup has more than enough space to snooze and stretch out. Choose the most appropriate size for your pup.
✅ Prevents Injury
Sharing bed with your dog is so lovely and sweet but you need to notice that whenever they want to rest and sleep, they need to jump to bed, which can possibly result in an injury. Dog beds are placed on the ground that will prevent injury.
2 Tips on Choosing Dog Beds
✅ Determine the Size of your Dog
 A dog bed should be big enough so that your dog can lie down in a natural and comfortable position. Don't forget to measure your dog from head to tail. We at Puppies Gear recommend measuring the size of your pet before purchasing our product.
✅ Consider the Quality
Quality dog beds can be used long-term and you don't have to purchase them over and over again. Remember, investing in a high quality dog bed like our "Puppies Gear Calming Donut Cat & Dog Bed" will keep your dog happy and healthy.

 PACKAGE INCLUDES 
Diameter 40cm fit for pet less than 2.5KG

Diameter 50cm fit for pet less than 5KG

Diameter 60cm fit for pet less than 9KG

Diameter 70cm fit for pet less than 18KG

Diameter 80cm fit for pet less than 25KG

Diameter 90cm fit for pet less than 32KG

Diameter 100cm fit for pet less than 40KG
OUR PROMISE
At Puppies Gear we provide high quality products, outstanding customer support & assure your satisfaction. Therefore we offer a 30 Day Money Back Guarantee with No questions asked! There's ZERO RISK for you! Purchase Now.
*FREE SHIPPING WORLDWIDE
CONGRATULATIONS!
You've found a hidden discount code! Use code "DOGBED" at checkout to claim an additional 10% OFF your ENTIRE order! 
CUSTOMER SUPPORT:
Email: info@puppiesgear.com
Phone:+1-240-393-7196