Essential Items for a Safe and Comfortable Journey

Traveling with your dog can be a fun and rewarding experience, but it's important to pack the right items to ensure their comfort and safety.  Here are some essential items to pack when traveling with your furry friend to ensure their comfort, safety, and well-being during the journey.
1. Food and Water
Pack enough of your dog's regular food for the trip in an airtight container.  Also, bring a portable water dish and bottled water to keep your dog hydrated during the journey.
It's also important to plan for regular meals and stick to your dog's regular feeding schedule as much as possible. This helps them maintain their normal routine and reduces the risk of overeating or undereating, which can cause digestive issues and discomfort.
Puppies Gear Portable Water Bottle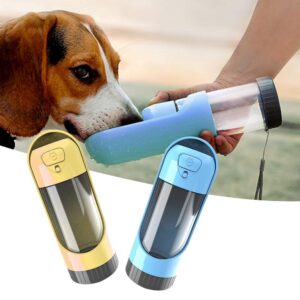 2. Bedding and Comfort Items
Traveling with your dog can be stressful for them, as they are in a new and unfamiliar environment. Bringing bedding and comfort items can help make their journey more comfortable and reduce their anxiety.
To ensure your dog has a good sleeping space, consider packing their favorite bed or blanket from home. This will provide a familiar scent and make them feel more at home in the new environment. Additionally, you can consider packing a travel dog bed that is lightweight and easy to transport.
3. Leash and Collar
Depending on your travel destination and activities, you may need a different type of leash. For example, a retractable leash may be suitable for a walk in a park but not for hiking or exploring a crowded city. A standard six-foot leash is a good option for most situations. And Make sure to pack your dog's leash and collar, along with an up-to-date ID tag and microchip information.
4. Waste Bags and Cleaning Supplies
Bring plenty of waste bags for picking up after your dog's bathroom breaks. You can use biodegradable waste bags, which are environmentally friendly and break down quickly. Be sure to dispose of waste bags properly in designated trash cans.
5. Travel Crate or Carrier
If you're traveling by air, your dog will need an airline-approved crate or carrier. Even if you're traveling by car, a crate or carrier can provide a safe and comfortable space for your dog during the journey. It provides a safe and secure place for your pet during transportation and can also be used as a temporary home while you're away from home.
Portable and Foldable Travel Pet Carrier Backpack

6. First-Aid Kit
A first-aid kit is an important item to bring along when traveling with your dog. It can be used to treat minor injuries or emergencies that may occur while you're away from home.
Remember to keep the kit in a safe and accessible place, and check the contents periodically to ensure that everything is up-to-date and in good condition. If your dog has any specific medical needs or conditions, consult with your veterinarian to ensure that you have the right supplies in your first-aid kit.
7. Grooming Supplies
Grooming supplies are important items to pack when traveling with your dog. They help keep your dog clean and comfortable while on the road, and can also be useful in case of emergencies. Bring any necessary grooming supplies, such as a brush or shampoo, to keep your dog looking and feeling their best during the trip.
Effective Pet Eyes Stain Wipes Remover

Overall, packing for a trip with your dog can be a bit overwhelming, but it's important to remember that planning ahead can make a huge difference in your dog's comfort and well-being. By making a list of essential items and double-checking them before you leave, you can ensure that you haven't forgotten anything important.
Remember to also consider your dog's individual needs when packing. For example, if your dog has a sensitive stomach, you may need to pack a special type of food or bring extra digestive supplements. If your dog is easily stressed or anxious, you may want to consider bringing calming aids, such as a thundershirt or a calming spray.
Lastly, always make sure to have your dog's identification tags and up-to-date contact information in case they get lost. With a little bit of preparation and some careful packing, you and your dog can enjoy a safe and enjoyable trip together. Regenerate response